Dr Angus Brown - B.Sc (Hons), MBBS, DCH

Angus was born in Orange, New South Wales and grew up on the Northern Beaches of Sydney. He completed a Bachelor of Science at University of Sydney and subsequently a Bachelor of Medicine/Surgery at the University of Notre Dame in Sydney. He completed his internship at Orange Base Hospital and subsequent training years at Royal North Shore, Gosford and John Hunter Hospital. Prior to moving to Scone, Angus worked in Moree in North West NSW.
Angus is a trainee of the Australian College of Rural and Remote Medicine (ACRRM) and has completed an advanced skill training in Surgery throughout Hunter New England area including Maitland, Singleton and John Hunter Hospital. He has completed further training in Burns management at Royal North Shore Hospital, Sydney and Endoscopy at The Princess Alexandria Hospital, Brisbane.
Angus performs the following surgical procedures at Scone and Muswellbrook Hospitals.
Skin Cancer excision, including melanoma + flap or skin graft repair (practice and hospital)
Skin excisions (lumps/cysts)
Great toe surgery eg ingrown toenail (practice or hospital)
Vasectomy (hospital only)
Hernia repairs
Carpal tunnel surgery
Elective and Emergency Caesarean Section
Appendicectomy + various emergency surgery cases
Gastroscopy
Colonoscopy
He is happy to see any new patients through Scone Medical Practice and you do not need a referral.
Our Nurses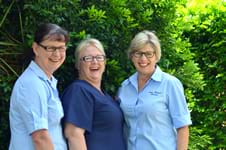 Nurse Supervisor - Debbie Phelps leads our Nursing team. Debbie has been caring for the Scone and Upper Hunter Community for many years. She is an Registered Nurse and is also a qualified Chronic Disease Management Nurse. For the last 14 years Debbie's passion has been helping patients manage their Diabetes.
Registered Nurses
Enid McInerney is qualified as a midwife and to give immunisations. Enid provides patients with assistance with their Chronic Disease Management and she has an interest in Women's health. Lisa Radford is also a member of the Registered Nurse team.
Practice Nurse - Annie Bell has been a Registered Nurse for 25 years and is currently employed by Scone Medical Practice to undertake Health Assessments for people aged 75 years and over. I have held this position for the last 13 years and I specialise in aged care.
Our Nursing Team - of Coralie Millgate, Anna Petta, Marie Caslick, Denai Johnston and Jamie Hobbs have a wide variety of experience, skills and qualifications between them allowing Scone Medical Practice to offer our patients with the best possible nursing care including immunisations, women's health care, chronic disease management, spirometry and ecg monitoring and wound management.
---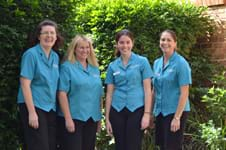 Medical Secretary - Tanya Reid has been a staff member of Scone Medical Practice since 2005. Tanya has had a varied career in administration from working in Broken Hill with a Courier Company to being a Personal Assistant for an Admiral with the Department of Defence in Sydney. Since starting with our practice Tanya has had various roles such as Reception, Accounts and of late administering Management Plans and Health Assessments. Over the last 5 years she was also the relief for the Medical Secretary when she was on leave. This depth of knowledge and experience is what she brings to her new role as Medical Secretary.
Administration Officer - Zandra Pittman has worked at the practice over a number of years and has recently taken on the role of coordinating all of the various Doctors' schedules with their commitments at the hospital, nursing home, the practice and their mentoring/teaching/training schedules.
Administration and Reception Team - Our administration team are hardworking and committed to giving their best for our patients and always with a friendly smile. Our team members are: Trudi Flaherty, Kathy Turner, Susan Ayres, Krystal Mitchell, Clare Garland, Kelly McGill, Brianna Golledge and Emma Wyndham.
---