Services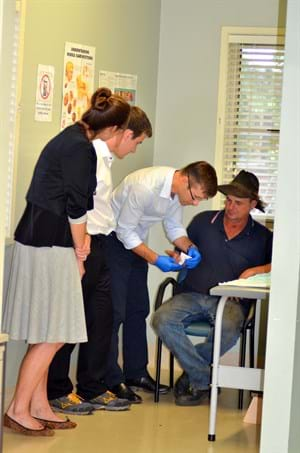 Scone Medical Practice offers a comprehensive family medicine service, which includes;
Minor Surgery
Family planning including Vasectomy
Women's health including PAP smears
Men's health
Pre employment medicals
Aviation Medicals
Diabetes management
Paediatrics
Emergency Medicine
Travel health
Skin Cancer checks and removals
The following Consultants also visit the the practice offering our patients a range of services not otherwise available in the local area:
Dr Ramin Samali - Urologist
Dr Simon Mylabathula - Cardiologist
Craig Snodgrass - Physiotherapist
Nikki Esdaile - Dietician
Neville Partridge - Podiatrist
Annabel Thurlow - Diabetic Educator
Julie O'Shea - Speech Pathologist
Laverty Pathology have a collection centre within the Medical Practice. Appointments can be made by telephoning them on 02 6545 3449
Hunter Imaging Group also has rooms attached to the Medical Practice. They offer CT Scans and utrasounds.For appointments please call 132 336.